Customer Service Excellence
Drumchapel Housing Co-operative offices
NOTICEBOARD
22
Mar
Staff training - 27 March 2019
Please note that the office will be closed on 27 March 2019 (PM) to accommodate staff training. The office will reopen on Thursday 28 March 2019 at our usual time 9.00am.
15
Mar
Volunteers needed for litter pick
Ahead of the Big Spring Clean Glasgow Campaign, we are having our own litter pick day on Wednesday 20th March 2019 at 10.30am, targeting areas around our office. Litter pick kits will be provided. If you are interested in volunteering please contact Caroline at our office. There will be Tea/Coffee and sandwiches at our office when we finish up around 12.30 pm.
05
Mar
SHR National Panel - feedback from tenants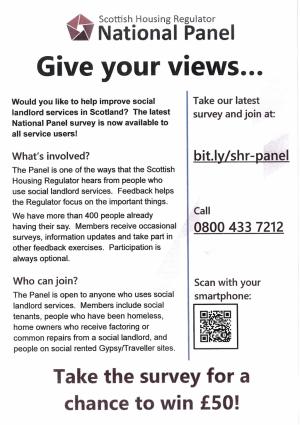 The Scottish Housing Regulator is seeking feedback from people who use social landlord services. Please click on the link for further information.
PERFORMANCE