CORONAVIRUS-Covid-19 UPDATES
25 March 2020
Due to the Coronavirus (COVID-19) outbreak, Drumchapel Housing Co-operative has taken the necessary steps and precautions to minimise the risk to our customers and staff. We took the decision to close our offices to the staff, contractors and public from 5pm on 23 March 2020 until further notice. This is in line with recent UK and Scottish Government advice.
We have been working hard to ensure that we are fully staffed to deliver our full services, however, to reduce spread of the virus, we will suspend delivery of the following services from 25 March 2020:
• Non-emergency repairs. Any non-emergency repairs reported will still be logged and we hope to be able to schedule those as soon as possible.
• Planned maintenance works for the coming year will not be progressed until we are able to be back full operating.
• Non-essential face-to-face meetings and appointments in tenants' homes.
• Community services and events.
From 25 March 2020 we will only provide critical services such as Emergency repairs, Emergency gas repairs, Gas safety checks. Tenants are asked to ensure that if they order an emergency repair that they notify the contractor if they are self-isolating or have symptoms of Coronavirus.
Please keep checking our Website and Facebook page as this is kept up to date.
In the meantime, our staff will still be able to deal with any enquiries you may have by telephoning 0141 944 4902 or emailing enquiries@drumchapelhc.org.uk.
We would also like to reassure you that tenant and staff wellbeing is our number one priority, which is why we have stepped up measures to limit the spread of Coronavirus (COVID-19) following official advice.
While our office is closed until further notice, we are working hard to ensure the critical and essential services that make a difference to communities every day continue to operate.
We are dedicated to protecting those most vulnerable from the effects of Coronavirus (COVID-19), and we are working with a wide range of partners to support those most at risk.
Thank you for the time you have taken to read this update. We want to reassure you of our commitment to you as a tenant and customer during this uncertain time.
24 March 2020
Following the Governments instruction on 23 March 2020 to stay at home; Drumchapel Housing Co-operative now have all of our staff working from home.
We are still be operating a full service including repairs (subject to our contractors own risk assessments) and taking rent payments over the phone. You can also pay at any Post Office, PayPoint, online at www.allpay.net or by bank transfer (please contact us for our bank details). Please contact us if you require a rent payment card or you are having difficulty in paying rent.
We ask Tenants and Service Users to be aware and understand that our aim is to provide a full service but we may have restrictions out-with our control.
Our number-one priority will continue to ensure tenants and their families remain safe and secure in their homes, whilst safeguarding our staff and contractors.
Please note that as tenants can still request repairs; if you order a repair, please ensure that you allow access in line with Government advice on self-isolation.
We will continue to contact you by text, email or phone and you can call us on 0141 944 4902.
Stay Safe and Stay Home
18 March 2020
In light of the recent developments, a decision has been taken to close the office from 12pm today (Wednesday 18th March 2020) until further notice.
We will still be operating a full service including repairs (subject to our contractors own risk assessments) and taking rent payments over the phone. You can also pay at any Post Office or PayPoint, online at www.allpay.net or by bank transfer (please contact us for our bank details). Please contact us if you require a rent payment card.
We apologise for the inconvenience, please continue checking the page and our website for further updates.
17 March 2020
Following announcements from the Government about the Coronavirus (COVID-19) Drumchapel Housing Co-operative are implementing a service delivery plan for the coming weeks and months.
Our priority is to ensure that we follow Government guidance and we hope that our Tenants will also follow this advice. We are unclear how long restrictions will be in place and we expect that our services will be disrupted and at times it may be impossible to deliver services at the usual levels. We will work to keep disruption to a minimum.
Primarily we want to keep everyone safe, including Tenants, Staff and Contractors and this may mean that some people may not be able to attend work and our contractors may not have capacity to deliver a repairs service.
From today, 17 March 2020, we are asking Tenants to not visit our office; we have not closed the office but will screen visitors. Our telephone service is still operating, and we are keeping our Website/Facebook page updated.
We have suspended all home visits by our staff from today.
Our benefits advice is moving to telephone based only.
We need Tenants to tell us if they are self-isolating and for how long; this will inform how we can still offer you a service.
We are working closely with our repairs contractors to ensure as little disruption as possible, especially for gas safety and emergency repairs.
We still need Tenants to pay their rent and we ask that you use alternative rent payment options rather than coming to our office. Paypoint is available in many of the local shops and online at www.allpay.net or 0844 557 8321.
We may have to ask our staff to work from home and this will limit the types of work they can carry out so please consider if your enquiry is not urgent; can you hold off until the situation settles. We are happy to try answer queries made via email and we will be able to work our way through these.
We have identified many of our Tenants who fall into the risk groups identified by the Government and will prioritise calls to those Tenants over the next few days. However, we would ask that neighbours also check in on those living around you to offer any help.
This situation is un-precedented and changing daily; we aim to keep this statement updated based on Government guidance and to keep the office open but may have to close at short notice, please keep up to date on our Website/Facebook page.
13 March 2020
The Co-operative has been planning and considering how it will continue to provide a service should the Coronavirus affect our tenants/staff and contractors.
We are keeping up to date and following the directive of Health Protection Scotland advice. https://www.hps.scot.nhs.uk/a-to-z-of-topics/covid-19
OUR STAFF ADVICE
In the event that a staff member has been in direct contact with someone that has the virus we expect that staff member to self-isolate and to work from home.
If the staff member is unwell, they will be off work and not available to work.
Should there be a number of staff affected either by being in contact with the virus or being unwell; we will close the office to visitors and move to a skeleton staff. There will be limited service as we redirect telephones to staff mobiles to deliver our service remotely.
CONTRACTORS
Our contractors will continue to deliver a service unless there is a change due to similar concerns.
If this changes we will move to undertake emergency repairs only and Non-Emergency repairs will be suspended.
TENANTS
If a tenant has self-isolated, we must be notified and we will not provide a service from staff or contractors until the end of the self-isolation period has ended.
Tenants are encouraged to use the alternative rent payment methods however, we will continue to take rent at the office unless we need to close the office.
VISITORS
Should anyone display symptoms while attending our office we will isolate them until such time as they can safely leave the premises. We will arrange for the office to be closed and areas to be sanitised; we will reopen the office once this is completed.
Further UPDATES on services and advice during Covid-19
Financial Advice - 26 March 2020
If you need any help or advice with your rent account or if you are worried about a change in circumstances due to loss of earnings, please contact your Housing Officer to discuss. We can also assist with income maximisation and tenancy sustainment issues. It is important you keep in touch with us if you are experiencing problems. Please note that the government has announced emergency legislation to suspend new evictions from social or private rented accommodation during the coronavirus crisis.
If you are worried about the short-term impact of COVID-19 on your employment then you can contact the PACE helpline on 0800 917 8000.
Further advice can also be found on the Money Advice Service website:
https://www.moneyadviceservice.org.uk/en/articles/coronavirus-what-it-means-for-you
Should you find yourself with no income due the impact of Coronavirus (COVID-19), if you do not already claim benefits, you may be eligible to apply for Universal Credit to help you pay your rent. You can find out more about Universal Credit and eligibility:
https://www.understandinguniversalcredit.gov.uk/coronavirus/
There is also further information for people affected by Coronavirus (COVID-19), including information about eligibility for Statutory Sick Pay on the UK Government website:
https://www.gov.uk/government/news/coronavirus-support-for-employees-benefitclaimants-and-businesses
If you currently pay your rent in cash, you need to use the alternative arrangements in the meantime e.g. card payments or online payments. We may contact you to discuss this further.
If you are self-isolating or recovering from Coronavirus (COVID-19), this will mean you may not be able to leave your home. This can be a problem if you have a pre-payment meter, which requires you to go to the shop to top-up. Different energy suppliers will have their own ways of dealing with this. If you or anyone in your home has any underlying health conditions, you should also contact your energy supplier to let them know. They will add you to the Priority Service Register, which will give you extra support should you need it. If you are self-isolating, you should contact your energy company as soon as you become aware of an issue to do with your prepay meter, as some of the solutions can take a few days.
Other advice on energy related issues can also be found here:
https://www.ofgem.gov.uk/coronavirus-covid-19/coronavirus-covid-19-and-your-energysupply
Wellbeing Advice - 26 March 2020
It's understandable that not only our residents, but communities everywhere will be worried about how their lives are going to be affected over the coming months. The government has provided guidance on social distancing for everyone in the UK and how we can all work together to protect each other. This includes steps you can take to stay connected with family and friends during this time:
Government advice on social distancing: https://www.gov.uk/government/publications/covid-19-guidance-on-social-distancing-and-for-vulnerable-people/guidance-on-socialdistancing-for-everyone-in-the-uk-and-protecting-older-people-and-vulnerable-adults
As we anticipate there will be disruption for an extended period of time, where tenants are self-isolating and have no local friends and family to assist with delivering prescriptions and other vital supplies, we can be of assistance, please call our office on 0141 944 4902 and we will try offer assistance.
If you are concerned about a vulnerable neighbour please let us know and we can provide you with advice and assistance.
If you are feeling worried or overwhelmed, support is also available from the following organisations:
• Breathing Space: 0800 83 85 87
• MIND: https://www.mind.org.uk/information-support/coronavirus-and-your-wellbeing/
• Samaritans: 116 123 or https://www.samaritans.org/?nation=scotland
• SHOUT: Text SHOUT to 85258 or visit https://www.giveusashout.org/
Glasgow Mutual Aid - support information - 26 March 2020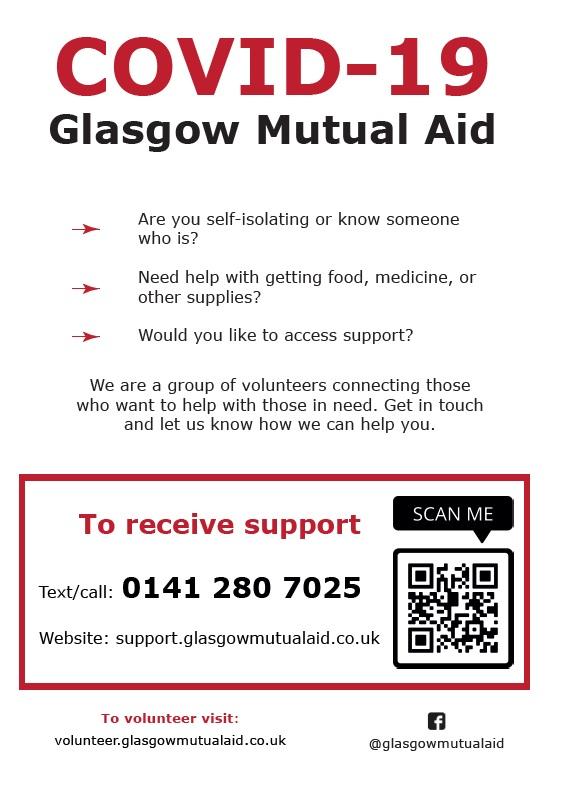 COPE Scotland support (during COVID-19) - 26 March 2020
A brochure of support offered by COPE Scotland is available on the link below.
COPE Scotland - support during Covid19
EMERGENCY REPAIRS (during COVID-19) - 25 March 2020
Our contractors will only provide an emergency repair service. However, please be aware that this may alter at any time if staffing levels are reduced due to the continuing spread of the Coronavirus.
You can keep up to date about which services are being provided on this Website or our Facebook page.
Please contact us on 0141 944 4902 if you have an emergency repair in your home during working hours. (0800 595 595 out of office hours)
Emergency Repairs are considered those that are a threat to the safety and security and cover the supply of water, gas, electricity, sanitation, hot water and heating, insecure doors/windows such as:
• unsafe power or lighting sockets or electrical fittings;
• loss or part loss of electric power;
• loss or part loss of gas supply;
• a blocked flue to an open fire or boiler;
• external windows, doors or locks which are not secure;
• loss or part loss of space or water heating if no alternative heating is available;
• toilets which do not flush (if there is no other toilet in the house);
• blocked or leaking foul drains, soil stacks or toilet pans (if there is no other toilet in the house);
• a blocked sink, bath or basin;
• loss or part loss of water supply;
• significant leaking or flooding from a water or heating pipe, tank or cistern;
When you contact us about your emergency repair we will ask you some questions about your current situation and whether you are self-isolating so that we can understand how best to protect you and your family, as well as the contractor that attends your home. The questions may include:
• Have you had contact with anyone who may be infected with the Coronavirus (COVID-19)?
• Do you have any of these symptoms – cough, fever or shortness of breath?
Please be patient with us while we ask these questions. These are required to protect the health and wellbeing of you, our staff and our contractors, which is essential in allowing us to maintain services.
If it is deemed essential that a contractor does attend your home, they will:
• Ask some further questions at the front door before entering the property
• Distance themselves by at least two metres from anyone in the property
• Avoid touching surfaces where possible
• Wear protective gloves and other additional protection equipment where necessary
• Ask you if they can wash their hands before and after the visit, if you are happy for them to do so
All of our staff and contractors are encouraged to keep up-to-date with the latest government health advice, follow good hygiene practice and to inform their manager if they feel unwell.
Staff will be expected to follow official advice and if anyone is suspected of having the virus, we would expect them to self-isolate.
We kindly ask you to minimise interaction with our contractors as they carry out work in your home. To keep everyone safe, we would ask that you go into another room at least 30 minutes before and during the repair being carried out and if you are near the contractor, stand at least two metres away where you can.
All contractors will show you identification when they visit your home.
Please check this and once you are satisfied, leave our contractor to carry out their work.
Upon completion of the job, the contractor will advise you they have finished and are leaving, and they will see themselves out.
By following these steps, we want to reassure you that there is a low risk of infection from a home visit.
Mar 2020
Shared Service Agreement reaches conclusion
Tenants will be aware that we have had a shared service agreement with Cernach Housing Association for the last 3 years, this agreement concluded on 31 January 2020 and Caroline Jardine resumed her role as full-time Director at Cernach.
Our Deputy Director, Pauline Burke has been in place as Acting Director since mid-August 2019 and our Board have felt that although the shared service agreement was successful for both organisations, we are keen to review the longer-term plan for Director services while continuing the close relationship formed between both organisations. We plan to publish a full article in our newsletter due early Spring.
Mar 2020
Coronavirus-Covid-19
You will have been following coverage of the global and national response to the Coronavirus Covid-19. The Government has advised that we are likely to see a marked increase in transmission in the UK in the coming weeks. The Scottish Government has confirmed the first cases of Coronavirus Covid-19 in Scotland.
It will be important that all landlords are aware of, and have regard to, the latest advice from Government, the NHS and the Chief Medical Officer. The position is changing on a daily basis and therefore it is important to check that advice regularly.
The Scottish Government's advice can be found here https://www.gov.scot/coronavirus-covid-19/
Public health advice can be found at: Coronavirus (COVID-19) on NHS Inform
For the latest advice and information from the UK Government go to gov.uk/coronavirus
Health Protection Scotland provides general advice on protecting people from the virus at:
https://www.hps.scot.nhs.uk/a-to-z-of-topics/wuhan-novel-coronavirus/
The latest travel advice is available here: gov.uk/guidance/travel-advice-novel-coronavirus
Mar 2020
Don't Tolerate Hate
#DontTolerateHate is a new Police Scotland Disability Hate Crime public awareness campaign. Any tenants of Drumchapel Housing Co-operative who have been subject to hate crime are encouraged to report this to the Police.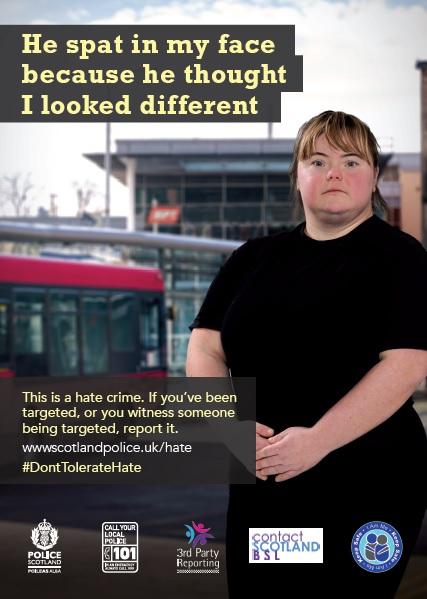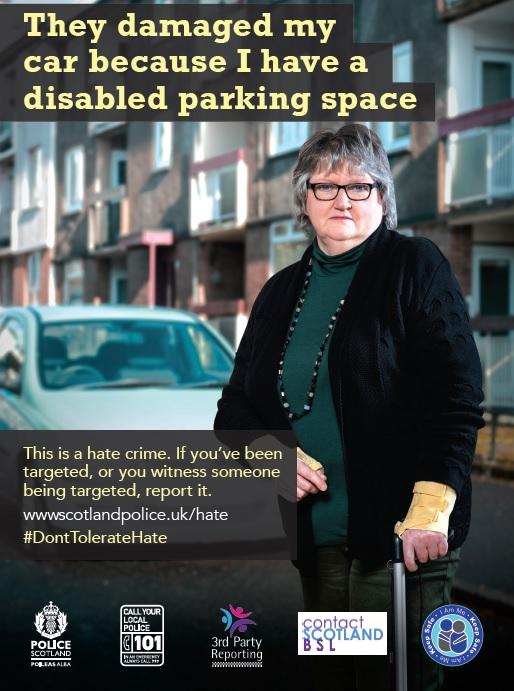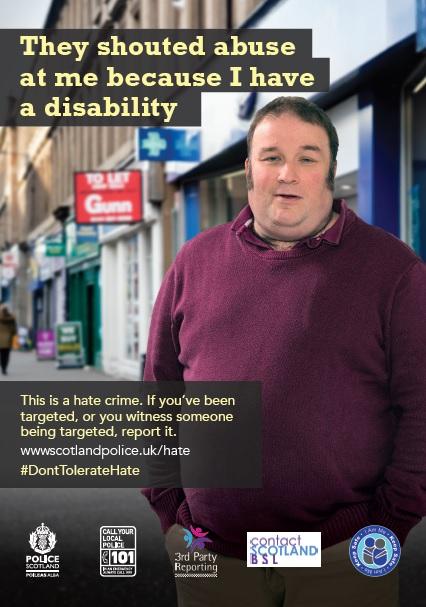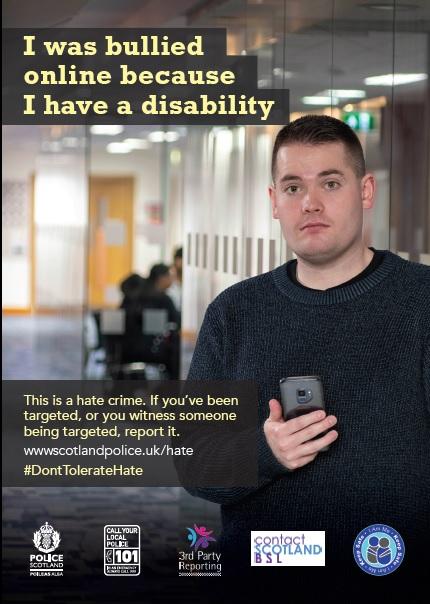 Feb 2020
Community Events & Groups
COPE Scotland have provided a list of community events and groups which may be of interest to our tenants. Please see the link below for further information.
24 Feb 2020 COPE update
Cope Community Events 24022020
10 Feb 2020 COPE update
Cope Community Events 10022020
Information on the Scottish Government's LIFT (Low Cost Initiative for First Time Buyers) scheme provided by Link Housing Association.
Jan 2020
Energy campaign launched by charity which delivered over £1m in savings last year
COPE Winter Wellness Booklet
Some useful contacts to support your mental health and wellbeing. If you have difficulty viewing these on a mobile/PC screen, please just call the office on 0141 944 4902 and we will happily print and post you out a copy of the booklet.
The COPE website is also a useful tool for handy tips - please click here https://www.cope-scotland.org/index.php/latest-blog/tips-for-staying-well-over-winter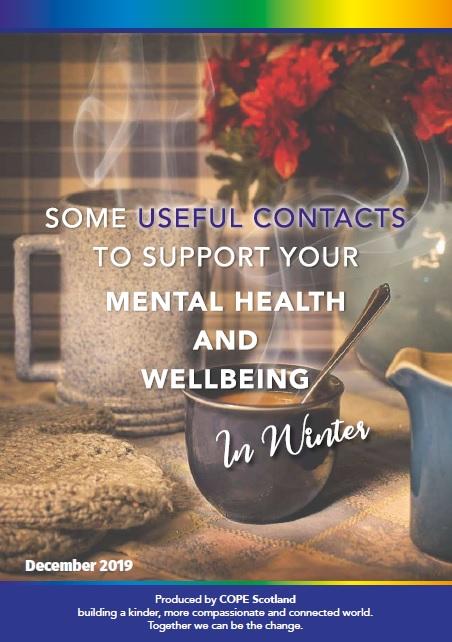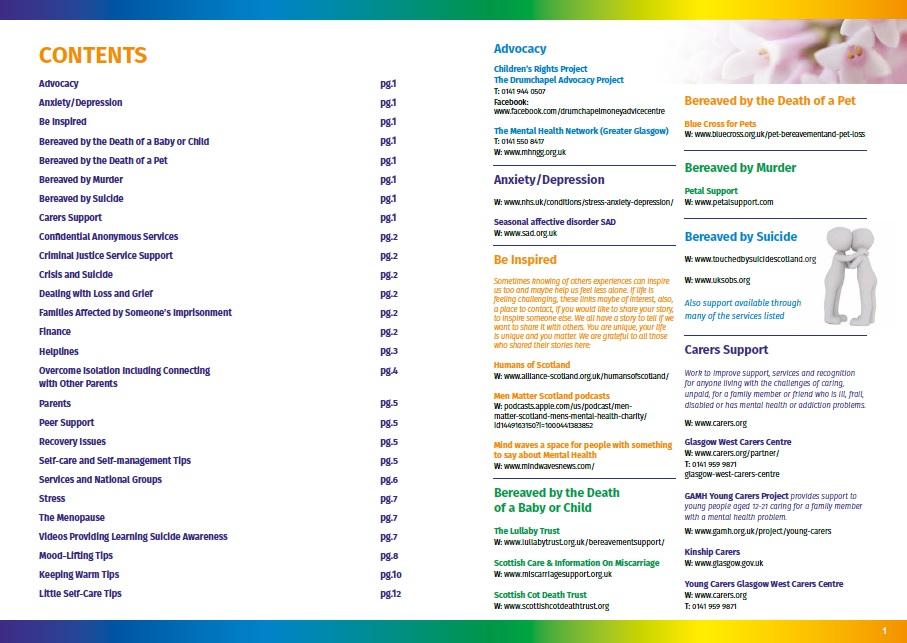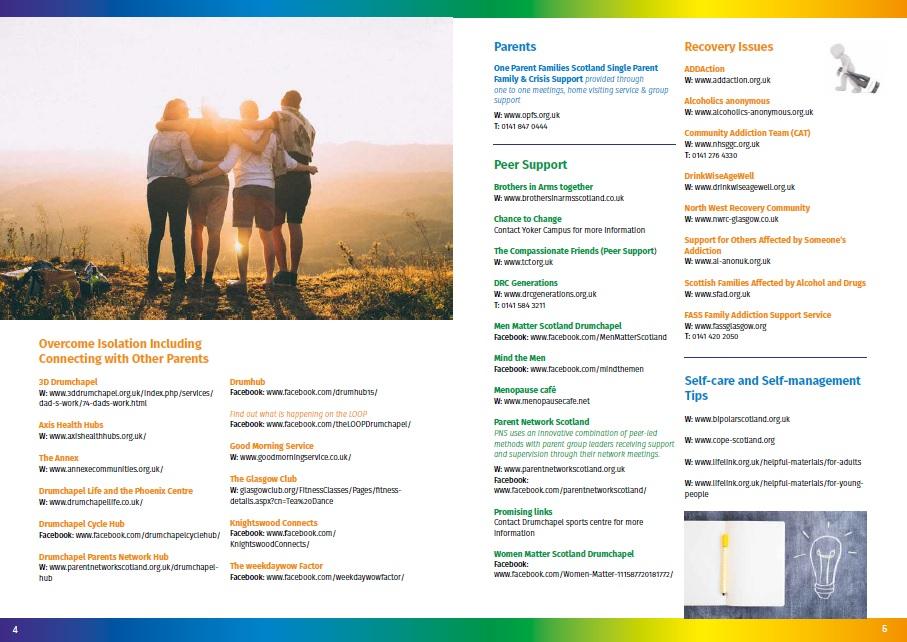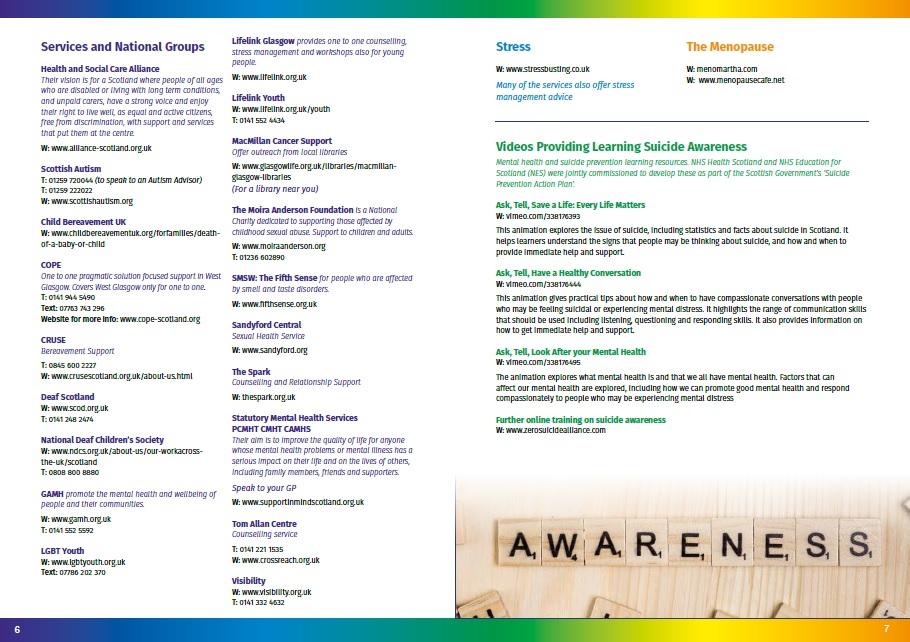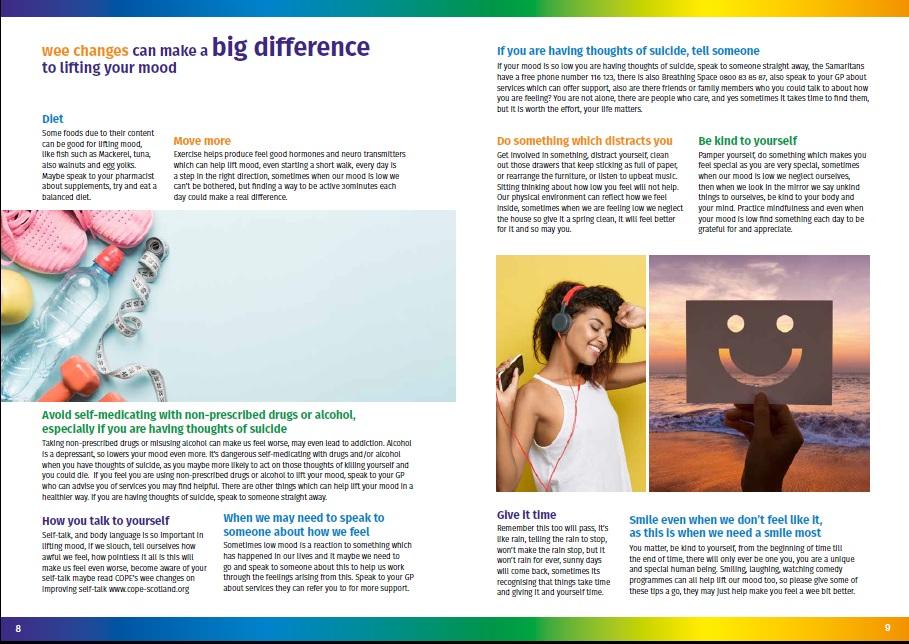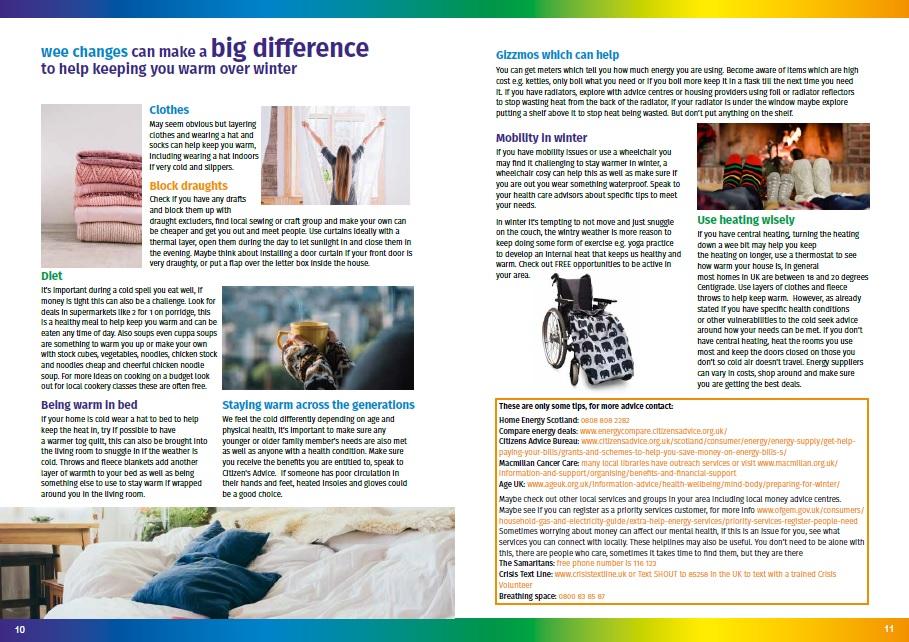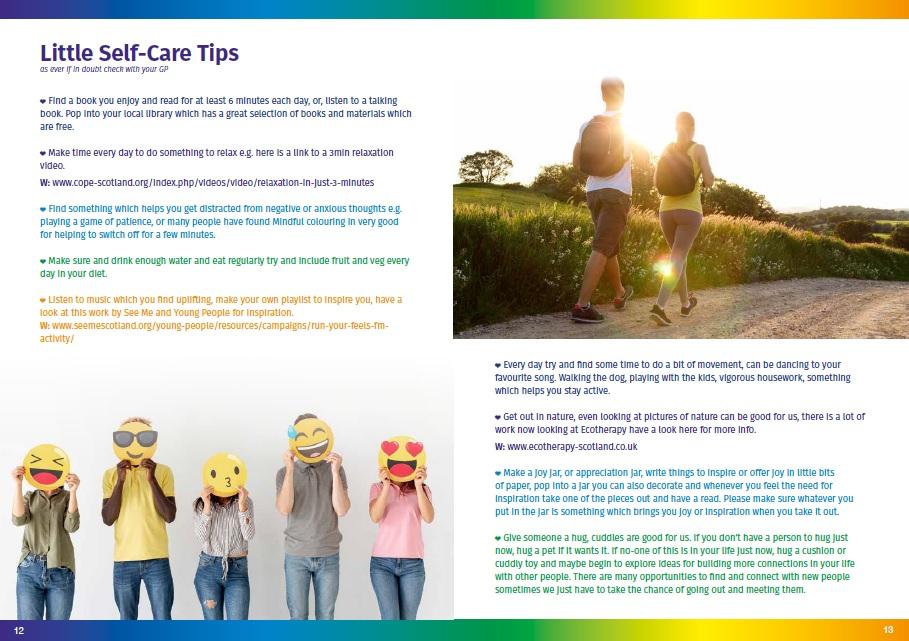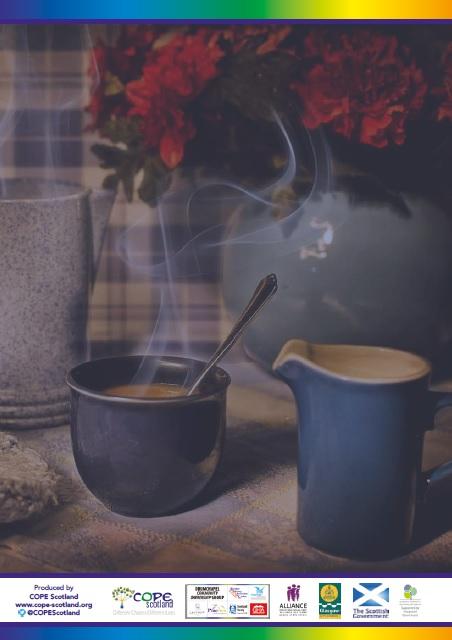 Community Events & Groups
COPE Scotland have also provided a list of community events and groups which may be of interest to our tenants. Please see the link below for further information.
Dec 2019
Glasgow City Council Christmas Holiday Closure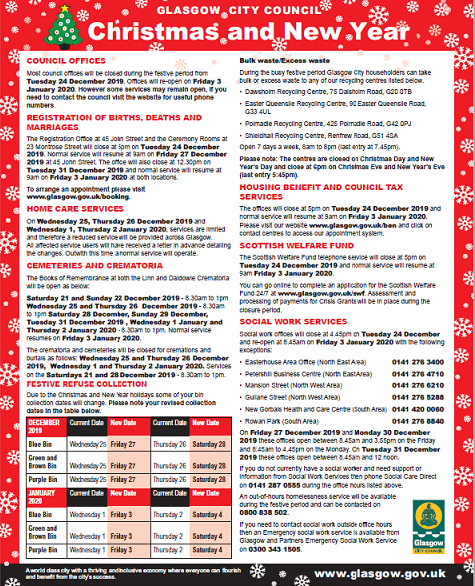 Oct 2019
Dogs Trust Community Event (12 November)
Our annual Dogs Trust 'Check up and chip' programme will take place between 11am and 3pm on Tues 12 November 2019. This is a free service provided to the community of Drumchapel - you do not need to be a tenant to bring your dog to this.
The flyer for this event is below:
Just show up on the day but please be prepared to wait your turn.
Oct 2019
Window & Bathroom Replacements (3-7 Merryton Avenue)
WINDOWS
Surveys commenced on 7 October, with a start date 11 November 2019.
These are anticipated to be completed by 22 November (2 weeks).
BATHROOMS
Surveys to commence in October, with a start date 25 November 2019.
These are anticipated to be completed by 13 December (3 weeks).
Sep 2019
World Suicide Prevention Day
Tues 10 September (9.30am-2.30pm). Further details provided below.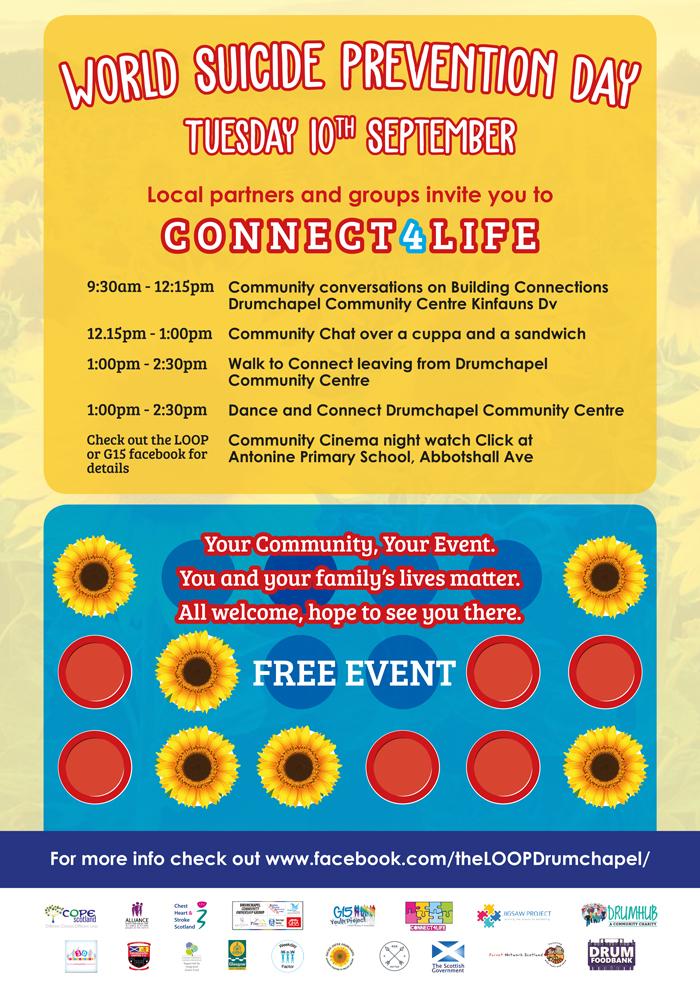 Sep 2019
TV Licensing for over 75s
Recent changes to TV licensing for over 75s have taken effect from June 2019. For further information, please read the attached article.
Sep 2019
Donations to local high school and food bank
In line with our Donations policy, we set aside committed expenditure towards a local school and the food bank.
Pictured is our Housing Officer Matthew Leach presenting a cheque for £300 to Drumchapel High School's Head Teacher, Joanne Sturgeon. The money will be used by the school towards a study weekend.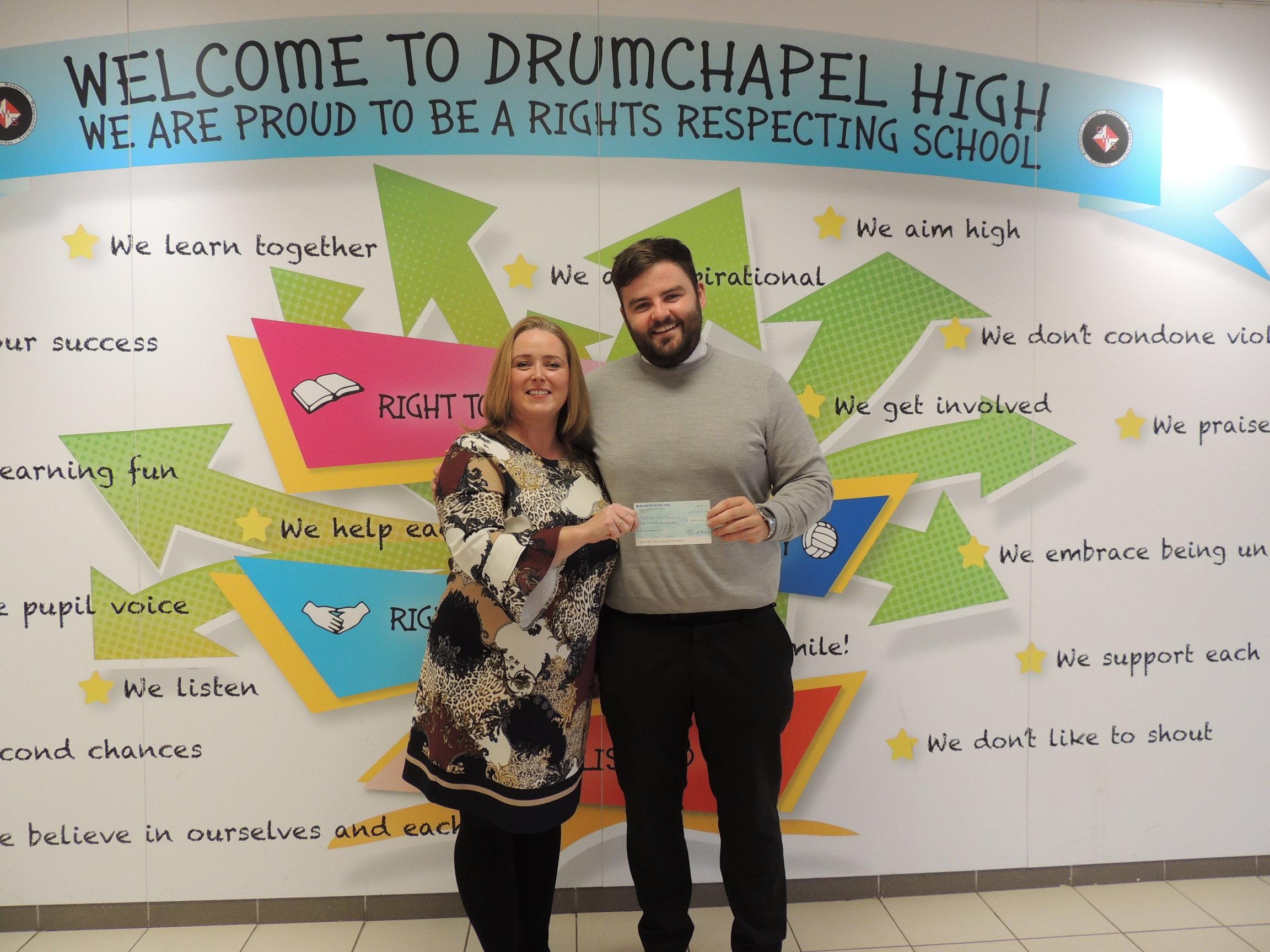 Our Asset Management Officer Lorraine Logan is pictured below presenting a cheque for £500 to Drumchapel Food Bank.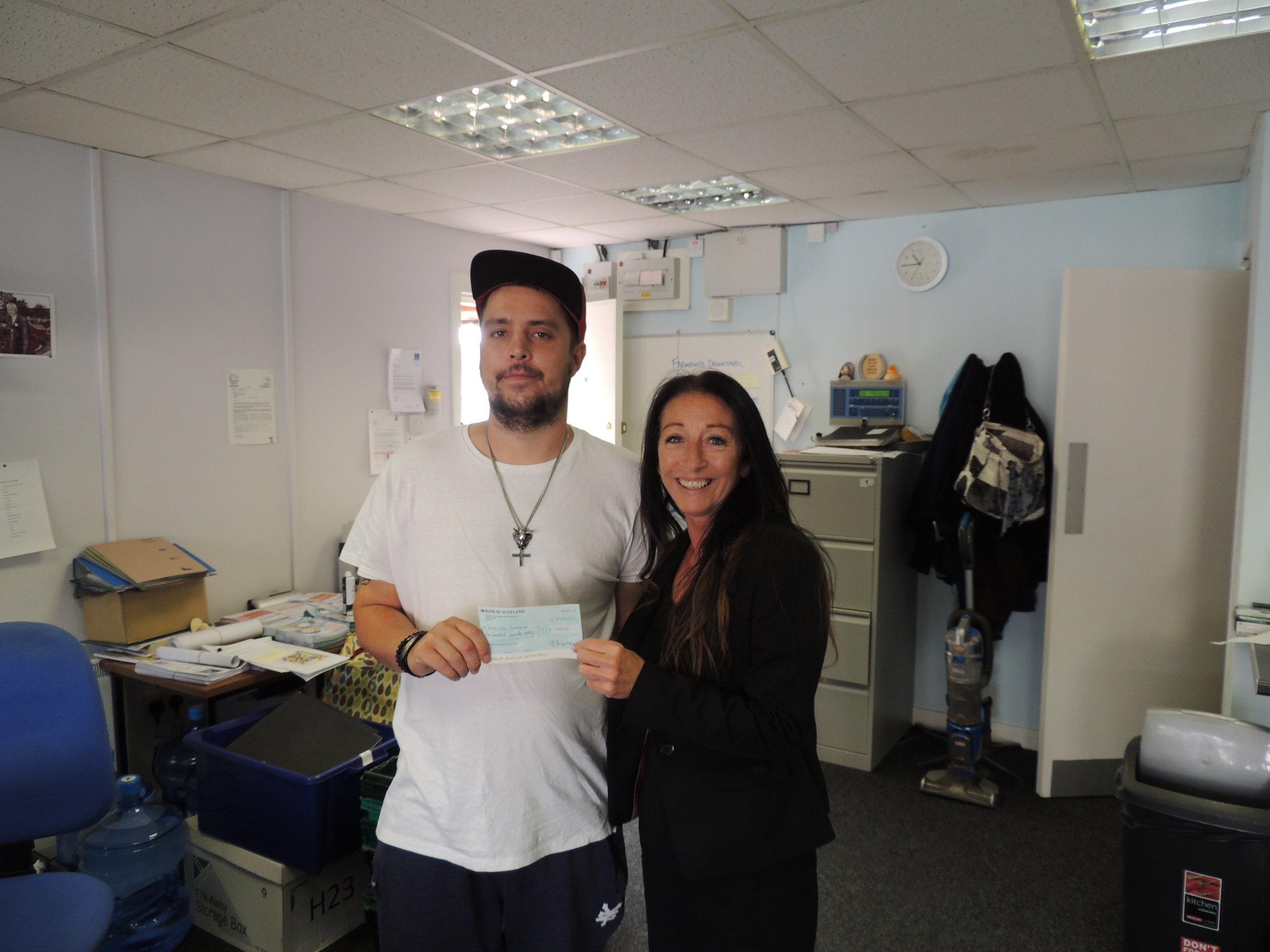 Aug 2019
Our gutter cleaning programme is due to begin on Monday 9 September 2019. Weather permitting, work will begin at 3-21 Merryton Avenue; complete the remainder of Merryton Avenue; then proceed to Linkwood Drive, Southdeen Road, and Southdeen Avenue.
After this point, City Building will co-ordinate the programme.
Aug 2019
There have been a few changes in our staff personnel and roles. Please note the following changes:

Pauline Burke - Depute Director is now Acting Director
Jacqueline McGoran - Finance Officer is now Senior Finance Officer
Caroline Meiklejohn - Housing Officer is now Senior Housing Officer
Stephen Watt - Customer Services Advisor is now Corporate Services Assistant
Matthew Leach - has returned as our temporary Housing Officer
May 2019
Our temporary Housing Officer Matthew Leach has finished providing maternity cover for Marisa McCarthy, who returned on 8 April 2019. Matthew's final day with the Co-operative was Tuesday 30 April 2019.
January 2019
Our office was made fully accessible at our front door via the installation of a new push button and ramp for wheelchair use. We endeavour to make things as easy as we can for you and hope that this provides some ease to public who visit our office premises.